Contact Us
Tel: +44 (0) 20 7420 9444
Email: info@tcce.co.uk


The Decline of the Theatre Director?
Tue 22 October 2013, 6pm - 7.30pm. Please arrive promptly for a 6pm start.
Free. Booking for this event has now closed but tickets are available on the door.
The Phoenix Artist Club, 1 Phoenix Street, London WC2H 8BU
In this discussion, a group of directors and designers including Jenny Sealey (Graeae and co-director of 2012 Paralympic Opening Ceremony), David Gilmore (Executive Artistic Director, St. James Theatre) and Tobias Hoheisel (Glyndebourne, Royal National Theatre, English National Opera) will debate whether or not changes in the art form have made the traditional role of the theatre director redundant. What are the distinctions between director, facilitator, dramaturg, creative producer and actor manager? Do directors need actors more than actors need directors?
Chaired by Professor Simon Shepherd of the Royal Central School for Speech and Drama, this promises to be a lively and contentious debate and participation from the audience will be encouraged!
Chair: Professor Simon Shepherd
Simon Shepherd joined Royal Central School of Speech & Drama in 2001. Previously he was Professor of Drama at Goldsmiths, University of London, and before that Professor of Drama at the University of Nottingham, which he left in 1996.
He joined Central in the new role of Director of Programmes, with responsibility for all learning and teaching, research, outreach and technical support. His brief now also includes all areas of academic administration, library and quality assurance.
His current role is a 'non-teaching' one but, once upon a time, in his first academic post, Simon was required not only to teach but to direct shows, of which he did many and various. Now his output is confined to written publications and vegetables.
Annabel Arden
Annabel Arden's distinguished career encompasses opera, theatre and broadcasting as well as acting and devising new work.
After graduating from Cambridge University, Annabel trained with Lecoq in Paris.  In 1983 she was a co-founder of the renowned Theatre de Complicité.
Her award-winning production of Dürrenmatt's The Visit was Complicité's first existing-text production and established their relationship with the Royal National Theatre.  She played in The Street of Crocodiles which toured the world.
Her landmark production for Complicité of  The Winter's Tale led to The Magic Flute for Opera North followed by The Return of Ulysses, La Triviata and The Cunning Little Vixen. Annabel Arden made her English National Opera debut directing The Rake's Progress. In 2004 she directed Puccini's Gianni Schicchi and Rachmaninov's The Miserly Knight at Glyndebourne followed by the much-revived and toured L'elisir D'Amore. Aperghis' Little Red Riding Hood was seen at the Almeida Theatre in 2005.
In 2012 Annabel Arden directed a highly-successful new production of La Bohème for Welsh National Opera and a staged evening of 20th century works with the London Philharmonic Orchestra under Vladimir Jurowski. Recently she directed Lionboy, Theatre de Complicité's first show for children, and narrated and directed Mendelssohn's A Midsummer Night's Dream for Jurowski's farewell concert at Glyndebourne.
Future plans include directing a new work  which will be a co-production between Aldeburgh, ROH2 and Opera North.
David Gilmore
David is currently Executive Artistic Director at St. James Theatre and  has directed more than a dozen West End productions, including Daisy Pulls It Off, Lend me a Tenor & Grease.
He has also directed Footloose in Sydney and Jamie Oliver's hugely successful stage performances in England & Australia.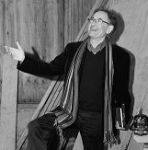 Tobias Hoheisel 
Born in Frankfurt/M, Germany Tobias Hoheisel trained at the Hochschule der Künste, Berlin and now lives in England.
Most recently directed/designed Donizetti's Anna Bolena for Oper Koeln (Feb 2013) Upcoming: Il Medico dei Pazzi by Giorgio Batistelli, world premiere, opera Nancy; 'Idomeneo' (Mozart) Aalto Theather Essen.
In the UK he has designed for the Royal Opera House (Palestrina, Boulevard Solitude – Laurence Olivier Award 2001 for 'Best Opera Production'- Iphigenie en Tauride); English National Opera (La Bohème, Tales of Hoffman); the National Theatre (Dido Queen of Carthage); the Royal Shakespeare Company (Julius Caesar, Richard III); the Almeida (Galileo, Ivanov); the Royal Court (The Strip); Aldeburgh Festival (Gloriana); Glyndebourne (Katà Kabanova, Jenufa, The Makropoulos Case (the production was shown in Barcelona, Hamburg, Berlin & New York), Death in Venice, The Bartered Bride); Welsh National Opera (Eugene Onegin); Opera North (Cosi fan Tutte), and Scottish Opera (Don Giovanni).
He has worked for many companies in theatre and opera, including: Deutsche Staatsoper  Orpheus, Der Freischütz and Griselda), Deutsche Oper, Schiller theater and Schaubühne (first German production of Yasmina Reza's Art) in Berlin; Stattsoper (Idomeneo, Fedora), and Burgtheater (world premiere of Peter Handke's Die Stunde da wir nichts voneinander wussten) in Vienna; La Monnaie, Brussels (Lohengrin, Der Ferne Klang, Trittico and Ariadne); Opera National de Paris (Don Carlo, Alcina); as well as San Francisco Opera, La Scala Milano, Teatro Municipal Rio de Janeiro, Lyric Opera Chicago (Trittico, Alcina, Orfeo, Iphigenie), Los Angeles Opera, New York City Opera, Opernhaus Zürich, Nederlandse Opera, Hamburgische Staatsoper, Bayrische Staatsoper München (Les Troyens), Deutsche Oper am Rhein Düsseldorf, Oper Frankfurt and Drottnigholm Festival, Bregenz Festival, Wiener Festwochen, Maggiio Musicale, Festival Für alte Musik Innsbruck, Styriarte Graz, Santa Fe Opera, Glimmerglass Opera Festival.
He has directed (with Imogen Kogge) and designed Ariodnate (Handel) (2002), followed by Madama Butterfly (2004) and Die Entfuehrung aus dem Serail (2007) for the Nationale Reisopera, as co-production with Scottish Opera. Smetana's 'Two Widows' for the Edinburgh International Festival/Scottish Opera (2009) and Anna Bolena (Donizetti) for Oper Koeln (2013).
Jenny Sealey 
Jenny Sealey has been Graeae's Artistic Director since 1997. In 2009, she was awarded an MBE in the Queen's Honours and became an Artistic Advisor for Unlimited 2012 Festival. Theatre credits for Graeae include: Reasons To Be Cheerful (2010 co-produced with The New Wolsey Theatre, Ipswich and Theatre Royal Stratford East, 2012 national tour co-produced with the New Wolsey Theatre and 2012 performance at Southbank Centre); Signs of a Star Shaped Diva; Static (co-production with Suspect Culture); Blasted; Whiter than Snow (co production with Birmingham Rep); Flower Girls (co-production with The New Wolsey, Ipswich); peeling; Bent and Rhinestone Rollers.
Other theatre and outdoor credits include: Blood Wedding (Setagaya Public Theatre, Tokyo); Romeo and Juliet (Saitama Arts Theatre, Tokyo); Against the Tide (GDIF, Milton Keynes International Festival and The National Theatre's Watch This Space); The Iron Man (Norfolk & Norwich Festival, Brighton Festival, Bristol Do Festival, GDIF and SIRF); and The Garden (National Theatre GDIF and Southbank Centre); The Limbless Knight – A Tale of Rights Reignited (GDIF and Liberty Festival); Signs of a Diva (Bounce! Festival, Belfast).
In 2012 Jenny co-directed the London 2012 Paralympic Opening Ceremony alongside Bradley Hemmings (GDIF). She also won the Liberty Human Rights Arts Award and was named on the Time Out London and Hospital Club h. Club100 list of the most influential and creative people in the creative industries.
Mischa Twitchin
Dr Mischa Twitchin is a co-founder of the performance collective Shunt and teaches in the Theatre and Performance Department of Goldsmiths College.
Material from his own projects can be accessed at: www.shunt.co.uk/mischa_twitchin; and on Vimeo: vimeo.com/user13124826/videos.
Kindly hosted by The Pheonix Artist Club. 
Main image:  'Ariodante' Designed and Directed by Tobias Hoheisel. 
Please note: this event will be filmed for broadcast via The Stage website. Unless you contact us to let us know that you do not wish to be filmed we will take it that you have given your consent to all such filming and to your likeness being included within any film, photograph, audio and/or audi-visual recording ("Footage"). If you do not wish remarks or questions to be included in the final edit of the film, please make this clear to the chair at the time of putting your question and your contribution will be edited out.